gawking over fashion magazines is like wandering through an empty zoo. each cage to cage to cage glossy prints on pages of all the parts bright and bold.
romantic dream: wandering into a room stuffed with vintage ysls and everything lagerfeld has done for chanel since the beginning and pretty much all of paris in the 50s-60s and nyc in the 70s-80s, velvet walls and, you know, things like shifting stairwells and vintage glass ballet mirrors and chandeliers like the moon and what not.
fashion should remain this decadent, dreamy thing. like that little vintage shop on broome street with that vintage gold leather ysl pencil skirt that fit like a dream. and the girl in the shop was totally out of this world. that ysl would have been a months pay, so i found a koos van den akker dress, a 50s girl group dress in the most amazing fabric-- both of which i must alter-- a vintage green leather skirt and some amazing 60s jewelry pieces. and though they are all pieces i will keep forever, they arent the fantasy. they are bold witnesses, colored faces. bright eyes. they represent the folklore of that morning, wandering around brooklyn alone after being up all night, not wanting to go in, and falling into the end of a perfect dream.
its a ruthless pursuit of perfection. a part that once it's attainable, it automatically becomes something else. i want to make clothes that feel like that. i want a closet and a room a space and a castle that feels like that. and anything i buy is for its beauty and its fit and the way it feels and any immediate desire is mostly what i cannot attain. yet. these are a few things i have found recently that i am currently obsessed over: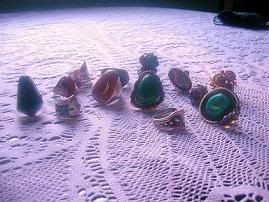 half of these were my best friend's grandmothers, and are heirlooms from new orleans. he painted her house in exchange for them.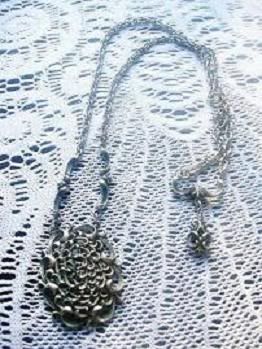 60s silverwork. found in nyc.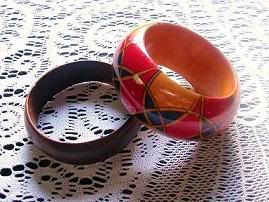 vintage wood bangles. the bottom is handcarved and etched with a strange little animal.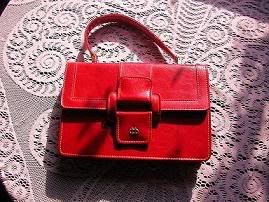 red leather vintage. three dollars. and its perfect.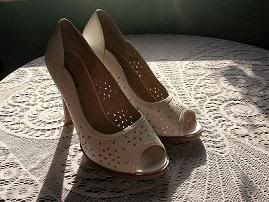 white leather bebe peep toes. four dollars.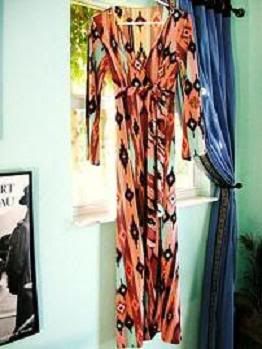 totally joan crawford.
so this summer its mini shorts, wedge heels, vintage tanks, and micro jumpers, bathing suits and pretty much the least amount of clothing because its too hot for anything else and who doesnt like the dream anyway.